I want to Exercise Every Day
I want to Write a Blog Every Week
I want to Launch my Product this Year
I want to Commit Code Every Day
I want to Go to a Conference Every Month
I want to Travel to Japan this Year
I want to Learn Something New Every Day
I want to Contact One New Lead Every Week
I want to Double My Income this Year
I want to Take Time to Think Every Day
I want to Meet with Friends Every Month
I want to Spend Time with Family Every Day
I want to Enjoy a New Movie Every Month
I want to Lose 20 Pounds this Year
Clear Goals helps you turn your goals into reality.

Clear Goals tracks recurring goals. Most people have a number of goals or tasks they want to complete each day, week, month and by the end of the year. See analytics on goals you have completed and learn where you need to improve.
Get Started, Free!
Sign up in seconds. No credit card required.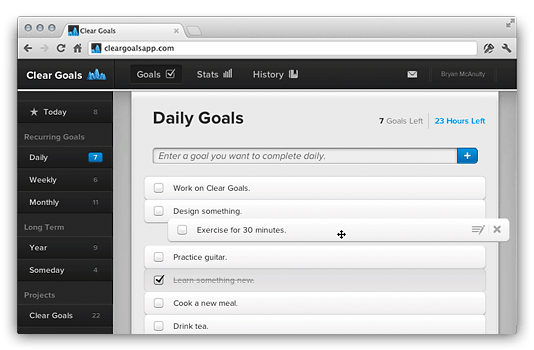 Achieve your Goals
& Measure Improvements.
At the beginning of each day, your daily goals are unchecked and ready to be completed again. Focus on what you want to acheive daily, weekly, for the month and for the year.
ClearGoals works on the web for desktop, tablets, and smartphones (iOS users can bookmark on homescreen as an offline webapp).
View Stats for Goals
& Get Into a Routine.
Measure progress on not only your recurring goals, but also on your projects and overall goal completion.
Learn what goals you need to better focus on to form habits. Clear Goals is built to help you accomplish the goals you want to achieve.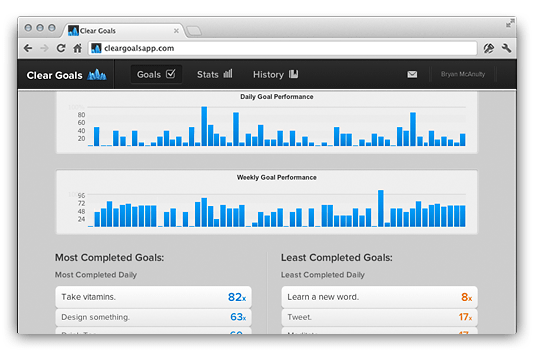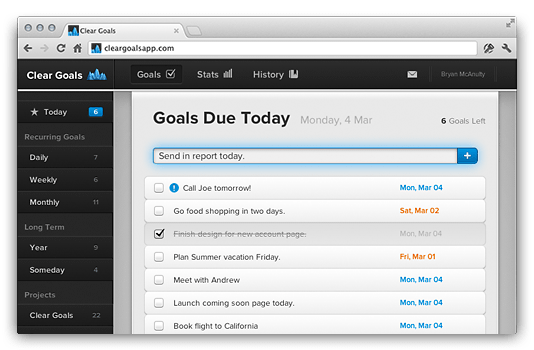 Natural Date Input
Write due dates how you think them.
Create unlimited project lists and manage them through your Today view. Have something you want to finish by next Thursday? Simply type it as you would think it and Clear Goals will set the due date automatically. Add an exclamation point when writing your goal and it will automatically be labeled as priority.
On the due date your goal will automatically appear in your today list, whether it was another project list or not.